Posted by Dilpreet Singh Dhanoa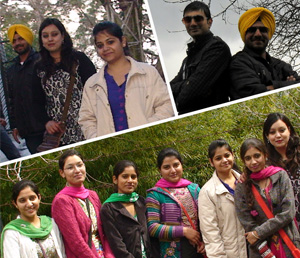 To enjoy the Hilly atmosphere
TECHDREAMZ TEAM VISITED on 2nd March, 2014 at KASAULI.
We visted the places:
Manki Point: This is the highest point in Kasauli, the place where Lord Hanuman is believed to have set his feet while on his way to look for the Sanjeevani buti (herb). Around 4 km from the Kasauli bus stand, at its top, is a temple dedicated to Lord Hanuman that lies within the premises of the Air Force base.


Christ Church: Close to the bus stand, it was constructed by the British family that founded the town of Kasauli itself. It is a magnificent structure built in the shape of a cross. Set amidst a grove of chestnut and fir trees, it is a place of worship for around 30 families. Apart from them, many tourists also flock here.


Sunset Point: Situated about 1 km from the bus stand.Sunset point offers a magnificent view of the nearby hill regions.On a clear day you may be able to view Chandigarh from up there.